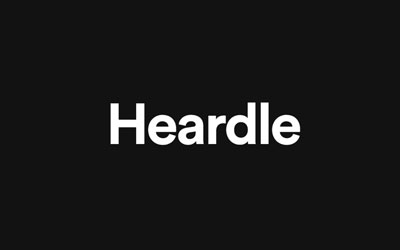 Heardle
Heardle
How well-versed in music are you? Heardle is an excellent place to put this to the test. As you listen to the song's opening, predict the song in the shortest time possible. Aside from its quiz function, Heardle is also an excellent tool for discovering music. Heardle will help find new music, revisit old favorites, or remember you've had in your head for years. This game, based on Wordle, has a calming soundtrack and visually appealing graphics.
By playing the game, test your music knowledge. You can do that to a section of the beginning of a song and guessing the song title. It's possible to skip tracks, but only so many skips can be done until the music stops. If wrong answers are given, the song's name will finally be disclosed once the total number of skips got exhausted.
We search for new and creative ways to spread the word about music and help artists connect with new fans. Heardle promises to be an engaging means of connecting them to the music they love and to new music. The game has immediately gained a devoted fanbase since its release.
What Is Heardle?
Like the wildly popular Wordle app, Heardle is a song-identification game. Heardle can become an independent game if not for its source material's lingering resemblances that remind you of its roots. Heardle, like Wordle, is a daily guessing game. Participants must guess the day's song based on a rationed amount of information disclosed over six opportunities.
They term it a musical tribute to Wordle. The songs chosen for the challenge are well-known hits by well-known musicians, and were selected in a random way. If you recognize a soundtrack with the fewest cues and in the quickest amount of time, you've proven your spontaneity.
When playing Heardle music game, you'll need more than just a little luck. You'll also need to show that you're an avid listener of all types of music in your collection. If you can decipher the game's many hints, you'll be well on your way to building a winning streak. Before diving into the gameplay, let's first study a little more about the game's history and rules.
Mastering the Heardle game's instructions
As previously stated, each player is given one daily challenge. It's music from Soundcloud that everyone has six chances to guess accurately. Wordle is a well-known game with several of these characteristics. The Heardle game has certain unique aspects and regulations that we should discover immediately.
There are six boxes in Heardle app where you can enter a song you think is the solution. But, tere are no grids for word guesses or even a keyboard to insert letters. The game's clues aren't presented in the traditional green-gray-yellow color scheme. In reality, the game gives little or no weight to colors. So, you might be wondering, how exactly do you figure out the music with just six guesses?
Simple! Hints on Heardle can be heard in the first 16 seconds of a song. These hints are designed to keep the player engaged and informed. If you want a clue, you can swap an attempt to receive another piece of the music. But, you can't do both simultaneously. Or, to put it another way, you can either use or skip the chance to receive an auditory hint.
Unique features of Heardle
Heardle's skip feature uses one of your six attempts like no other app. When you make a guess in Heardle, a portion of the song is played for you in seconds-by-second increments. That gives a better idea of what it is you're listening to. The length of each audio hint increases by one second for each turn you're in.
An enjoyable aspect of this game is that whether you succeed or fail, you get to hear the soundtrack. That way, you can reflect on the originality of the music used in the game. You can play the game daily without becoming uninterested. That's because the music will engage you while attempting to guess the titles of the songs. It is a fantastic game that you may play for a considerable time with your loved ones and close pals. Put your worries behind you and take pleasure in the present moment.
It's easier to get more information on Heardle than on Wordle. Wordle requires input to get additional information on the user's guesses. The full-length track plays if the guess is correct. In addition, the screen shows the number of necessary attempts and the ultimate sample length. How many times did you guess that day's track? You can copy and paste the number of times you got it right in Heardle, just like Wordle allows.
What is the source of the music heardle features?
Since Heardle was bought by Spotify, it incorporates their tracks directly into the game. The region hampers the game's ability to extend its audience due to restrictions imposed on specific tracks
VPNs are a simple solution to avoid any issues relating to your location. The challenge track on Heardle online can be unlocked if you live in a country where VPNs aren't blocked.
You'll need a wide range of musical preferences for these tracks, from current chart-toppers to oldies from decades past. Finding new music is terrific regardless of whether you know it or not. Fortunately, Heardle's tracks are well-known. These songs are drawn from "a list of the most downloaded tracks in the past few years." You may be able to avoid guessing some unusual tunes if you know this information.
Conclusion
If you're an avid music listener, it's a no-brainer that Heardle will become your new app of choice. Everyday, new music is posted for users to guess the title, giving them six chances to get it right. Each time you try and fail, the offered sample gets longer and longer. Even if you aren't a fan of word games, Heardle game is a terrific alternative for individuals who appreciate a brain-teaser. Play headle unlimited to get yourself in a competitive mode, distract yourself from everyday stress, and relax for a while. Play Heardle today on heardlegame.net and have fun!